See also: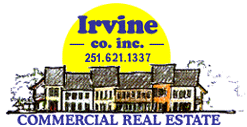 A privately owned company established in 1979 by S. Starke Irvine, Irvine Co., Inc. offers complete and comprehensive commercial real estate services from offices located on the Eastern Shore of Mobile Bay in Baldwin County, Alabama.
Through the years, Irvine Co., Inc. has developed a strong reputation for superior quality, professionalism and highly personalized service to our clients. At Irvine Company, we are proud of our involvement and support for the thoughtful development and preservation of the community. We are especially proud of the trust so many in the community place in us.
A very important focus in the overall Irvine package of services is marketing. Properties are actively marketed through area media, real estate publications, fliers, brochures . . . and of course, the Internet.
809 Daphne Avenue
Daphne, AL, U.S.A.
36526
P. O. Box 2497
Daphne, AL, 36526
251.621.1337